Description
Piega Connect
The small, versatile and easy to use PIEGA connect serves as an interface between Piega Premium wireless loudspeakers and an existing HiFi system or a multi-room system. It is easy and quick to install and can even be stored if necessary in a sideboard. Besides the wireless transmission of the music signals to the loudspeakers, it offers a Bluetooth aptX module, analogue inputs and outputs as well as coaxial and optical digital inputs.
WIRELESS TRANSMISSION AND BLUETOOTH
The PIEGA connect transfers the music data wirelessly to the loudspeakers and comes with a Bluetooth aptX module for streaming music from a smartphone or tablet.
VERSATILE CONNECTIONS
Analogue inputs and outputs, as well as coaxial and optical digital inputs, enable the connection of several different audio sources.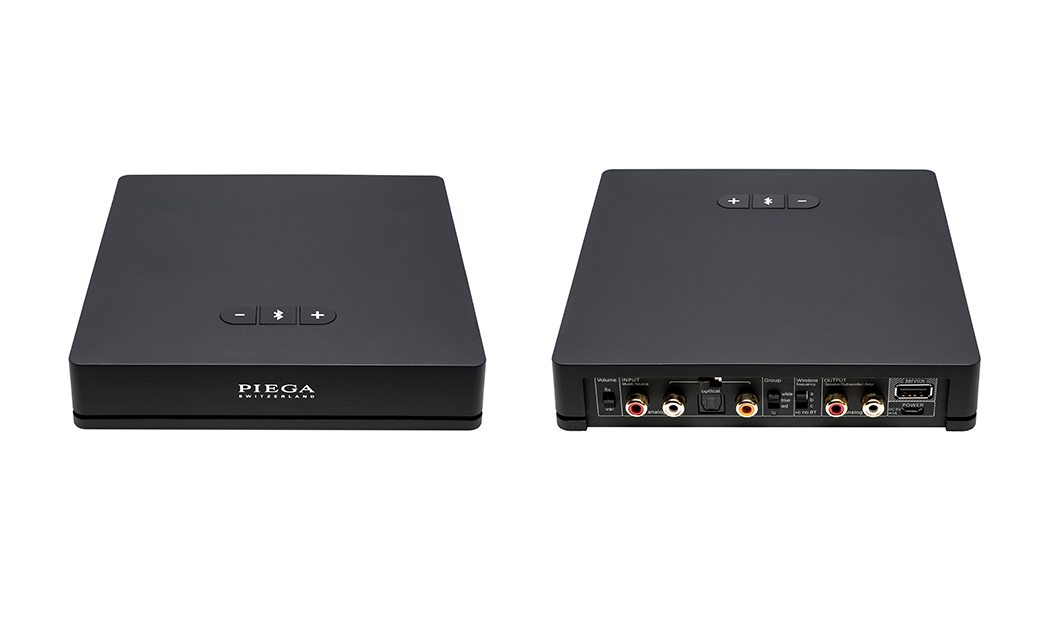 The PIEGA connect is part of the brand new Premium Wireless Series, consisting of three wirelessly controllable active loudspeakers. This smart and simple PIEGA connect module is used for connecting already existing HiFi components and for the wireless transmission of music signals to the loudspeakers. The signals are transmitted via a digital wireless link, enabling music to be played via analog and digital inputs, as well as via the integrated Bluetooth aptX module. In this way you can stream your favourite music, also directly from your smartphone, tablet or notebook.
TECHNICAL DATA
ANALOGUE INPUT: Line in (RCA)
DIGITAL INPUTS: Optical / coax (S/PDIF)
ANALOGUE OUTPUT: Line out (RCA)
ANALOGUE INPUT RESOLUTION: 24 Bit / 96 kHz
ANALOGUE OUTPUT RESOLUTION :24 Bit / 96 kHz
BLUETOOTH :aptX, A2DP, AVRCP
WIRELESS FREQUENCIES :A: 5,2 GHz, B: 5,8 GHz, C: 2,4 GHz
WIRELESS DATA TRANSMISSION :Group White/Blue: 24 Bit / 48 kHz, Group Red: 24 Bit / 96 kHz
DIMENSIONS: H 33 mm, W 162mm, D 167 mm
POWER SUPPLY:5 V DC / 1 A