Description
Piega Premium Wireless 501
The Piega Premium Wireless 501  is an elegant and compact active floorstanding loudspeaker, hand-built in Switzerland to precision standards it is a high-performance loudspeaker in a room-friendly form-factor.
The approximately one meter high active loudspeaker supplies your living room with first-class sound thanks to its 180 watt amplifier.
Thanks to Bluetooth and wireless technology, nothing stands in the way of music streaming or integration into a multiroom system.
DSP WITH DYNAMIC LOUDNESS FUNCTION
The integrated sound processor automatically ensures optimal sound quality and also protects your speakers from overload.
TWO WOOFERS
Two 120 mm MDS woofers ensure a deep bass and balanced midrange reproduction.
INTEGRATED BLUETOOTH APTX INTERFACE
Thanks to the integrated Bluetooth interface in PIEGA Connect, you can stream music in the best sound quality.
ALUMINIUM CASING
Excellent acoustic properties and an elegant look make aluminum the ideal material for loudspeaker enclosures.
READY FOR MULTIROOM PLAYBACK
With the PIEGA connect module, you can quickly and easily integrate the wireless active speakers into various multi-room systems.
TIMELESS DESIGN
The most modern wireless technology has been integrated into the timelessly beautiful aluminium columns of the Premium series.
ITS FUNCTIONS IN DETAIL
Thanks to the analog cinch connections and the optical or coaxial digital inputs, most hi-fi components can be easily connected to the PIEGA wireless system. The range of applications ranges from the small, smart system – for example, consisting of an audio source and a pair of PIEGA Premium Wireless speakers – to large multi-room setups with network streamer and TV. The integrated analog output also enables the connection of a
subwoofer.
PIEGA CONNECT (not included)
The small and handy PIEGA connect is required as an interface between our wireless speakers and an existing hi-fi system or a multi-room system. It is quick and easy to install and can also be stowed away in a sideboard if necessary. In addition to radio transmission of the music data to the speakers, it offers a Bluetooth aptX module, analogue inputs and outputs as well as coaxial and optical digital inputs.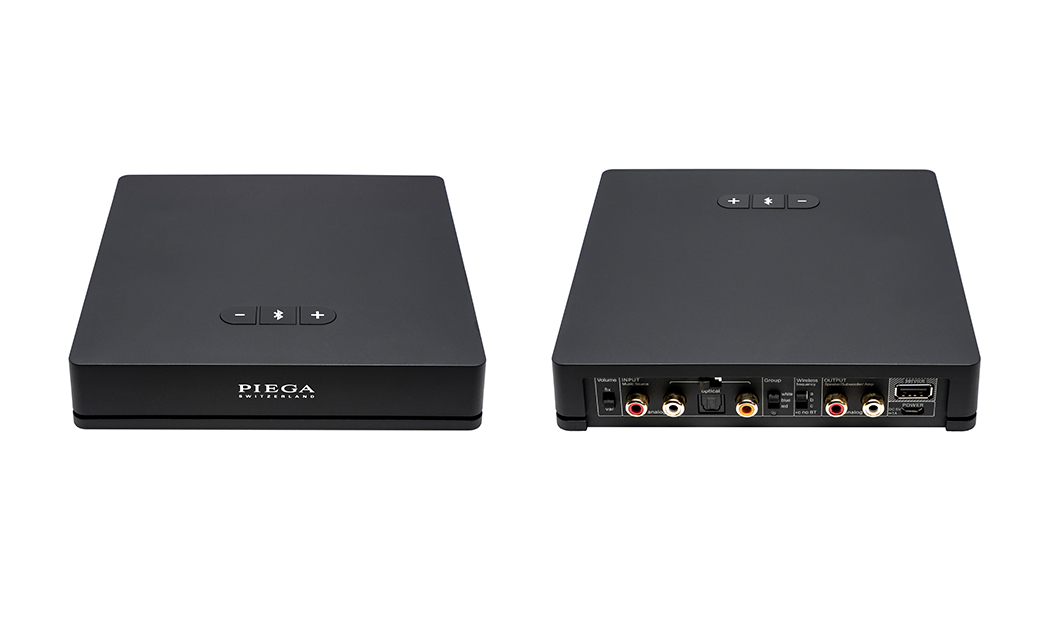 TECHNICAL SPECIFICATIONS
FREQUENCY RESPONSE
: 38 Hz – 35 kHz
AMPLIFIER POWER
: 180 watts
DIMENSIONS
: H 101 cm, W 16 cm, D 21 cm
CONSTRUCTION PRINCIPLE:
2 1/2-way column speaker system
Drivers:
1 x LDR 2642 MKII ribbon, 2 x 120 mm MDS
RESOLUTION ANALOGUE INPUT:
24 bit / 192 kHz
POWER REQUIREMENT STANDBY:
500 mW / 1 W.
SUPPLY VOLTAGE
: AC100 – 120 / 220-240V ~ 50 / 60Hz
MAXIMUM AMBIENT TEMPERATURE
: 45 ° C
Housing aluminium / cover silver,
Housing black anodised / cover black,
Housing painted white / cover silver